current member

of the constitutional court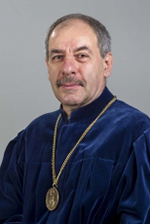 Tamás SULYOK
Born year: 1956
Dr. Tamás Sulyok was elected Judge of the Constitutional Court by the Hungarian Parliament in September 2014. Since 1 April 2015 he has been vice-president of the Constitutional Court. From 22 April 2016 he has been practicing the President's powers. On 22 November 2016, he was elected by the Parliament as the President of the Constitutional Court for the term of his mandate.
He graduated from the Faculty of Law of the University of Szeged in 1980.
Between 1982 and 1991 he was legal councilor, since 1991 until being elected as Member of the  Constitutional Court he has been attorney at law. Between 2000 and 2014 he has been honorary consul for Austria. Since September 2005 he has been visiting lecturer teaching constitutional law at the Faculty of Law of the University of Szeged. He was awarded PhD degree in 2013, his field of research is the constitutional frames of advocacy.