current member

of the constitutional court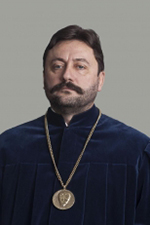 Péter SZALAY
Born year: 1960
Dr. Péter Szalay was elected Judge of Constitutional Court in June 2011 with effect from 1st September 2011.
He graduated from the Faculty of Law and Political Sciences of Eötvös Loránd University in 1984, with "summa cum laude" qualification. He qualified as lawyer on 9 March 1989.
Between 1984 and 1987 he was lecturer at the Department of Constitutional Law of the Faculty of Law of Eötvös Loránd University, he was a scholar trainee of the Scientific Qualifying Commission of the Hungarian Academy of Sciences. He was a clerk at the Department of Legal Drafting of the Ministry of Justice from 1987 until 1988. He was government counsellor and later senior counsellor at the Secretariat of Minister Imre Pozsgay from 1988 until 1990, he was goverment counsellor for the parliamentary issues at the Cabinet of the Prime Minister 's Office from 1990 until 1992. From 1993 until 1998 he was the legal director of the Financial Institution Center (later on Center of Financial Institutions, Financial Institution Center Bank Co.). From 1998 he is member and attorney at the Law Firm Jutasi and Partners.