current member

of the constitutional court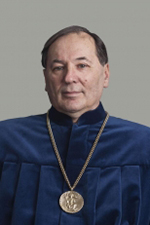 Béla POKOL
Born year: 1950
Dr. Pokol was elected Judge of the Constitutional Court in June 2011, with the effect from 1st September.
He graduated from the Faculty of Law of Eötvös Loránd University in 1977 and began to work as assistant of professor at the newly founded College of Public Administration, where after having prepaired his candidate's dissertation he became a senior lecturer. In 1989 he became doctor of sciences and in 1991 he was granted university professorship.
Since 1991 he has been head of the Department of Legal Theory and Sociology of Law at the József Attila University (today University of Szeged). He made long term study trips in Western Europe from the beginning of the 1980's, in 1985 and in 1989-90 he spent two years in Germany as a Humboldt Foundation fellow beside professor Niklas Luhmann. He made researches for four months in Paris for the invitation of professor Pierre Bourdieu. During the parliamentary cycle between 1998 and 2002 he was elected Member of Parliament, and he acted as the chairman of the Parliamentary Committee of Constitutional and Justice Matters. After the turn of the millenary his scientific researches were summed up and published in a book of one thousand and five hundred pages, called "Trilogy on Social Criticism" (Századvég Publisher 2004 – 2006)., Later on his researches in the field of theory of law and of history of law were additionally summerised in his books: "Medieval and Modern Giurisprudence" and "Authentic Theory of Law" (Dialóg-Campus Publisher 2008 and 2010). Before being elected Judge of Constitutional Court his last two works were published by Kairosz Editor: "Speculations on Moral Theory" and "The Last Days of Europe. The Consequences of the Demografic Collapse" (Kairosz Publisher, 2010 and 2011).